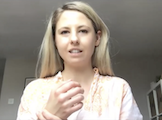 For our seventh episode of Therapists Together we are taking a different approach. Instead of an interview, this video demonstrates a Telehealth session with fellow therapist Suki Carpenter. As the owner of the White Willow clinic in London, Suki has been affected by lockdown in her own business and has also been unable to receive treatment for an ongoing Thoracic outlet / carpal tunnel issue.
Having assessed and treated Suki during a previous visit to the UK we agreed to do a follow-up Telehealth session. Suki has kindly agreed to share this session with up as an indicator to therapists of a Telehealth session can be conducted. This is an example only, conducted on a previously assessed client so feel free to tailor your own session to facilitate your unique approach to therapy and meeting the needs of your clients!
The discussion and treatment demonstrated in this video is in no way intended to replace medical advice or the care provided by a trained therapist.